Movie Day!
Actually, I spent most of the day cleaning up and doing work related crap, but I did have the TV on and kinda half watched a few movies. Most were on Scream, what has to be the best cable TV station ever. [Nancy's a hoot!]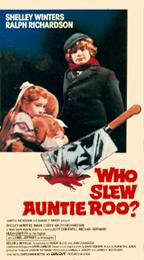 First up was Who Slew Auntie Roo? Shelley Winters stars in this movie as Auntie Roo, who's daughter is dead and she kidnaps a couple of children to replace her. The young boy is a little demented and believes Antie Roo is like the witch in Hansel & Gretel and wants to cook them up for dinner. But the kid is not alone, Auntie Roo is quite insane, keeping her daughter's corpse hidden away in a secret nursery, the butler is a sadistic little bastard and her spritualist is a fraud and a drunk. Its a fun little movie, mostly due to Ms. Winters acting so sweet and nice one moment and totally psychotic the next.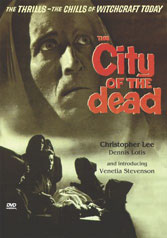 The next movie was Horror Hotel, also known as The City of the Dead. It shared the same cinematographer [Desmond Dickinson] as Antie Roo, strangely enough. It involves a tale of witchcraft as told by a fairly young Christopher Lee, with him ending the tale with "Burn, witch, burn. Burn, witch, burn." A witch is burned at the stake, and she and her cohorts apeal to Lucifer to save her in return for their souls. Three hundred years later, she's still alive and running a hotel in the same little town she was burned in, Whitewood. Christopher Lee is a professor teaching, of all things, the history of witchcraft and sends an eager-beaver student off to Whitewood to do a little research. She disappears, and soon half the city is off to Whitewood to look for her, most following in her ill-fated footsteps. Not a bad little flick, particularily Chris Lee being deliciously evil and Patricia Jessel likewise as the witch/inkeeper. The end with the whole "shadow of the cross" smiting down the Luciferians was a bit over the top.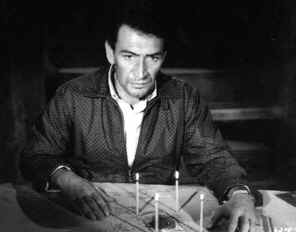 Third on the slate was, deja-vu, Burn Witch Burn also known as Night of the Eagle. Now this is a really cool movie, the best of the three. It has great atmosphere, great story. Its about this university professor who's wife is practicing witchcraft. The hubby is a staunch non-believer in such nonsense, so when he finds out about her shenanigans, he insists that she give it all up and throw away all her charms and talismen. That's when the fun begins, as his life begins to fall apart without her safeguards. Aside from the silly "Do you believe?" at the very end, this is a suspenseful, intense little thriller. Like "Bewitched!", only deadly serious. Peter Wyngarde makes it all work, with a little help from Janet Blair as his witchy wife and Margaret Johnston as well, another faculty member and wife.
Posted by Fungii at
12:14 AM